Jobs Employment Ads
[box type="info" align="aligncenter" ]
Tim Hortons is Hiring!

We are hiring Employees for Tim Hortons.
Part-Time and Full-Time.
Please contact us at 514-594-6858.  [/box]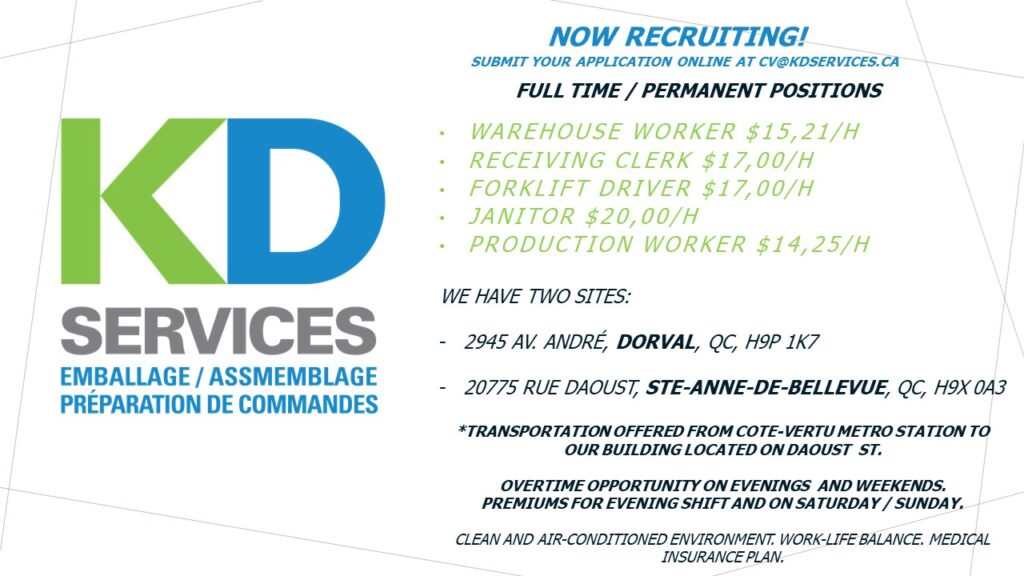 Full-time – Permanent job – Packaging $15/h at Proserv Inc. – 5491 Victoria St. Local #111 (Cote St. Catherine Metro). Contact at 514-726-0086 / recrutement@pro-serv.ca
Travel Agent needed. Must speak English and Hindi. Must have OPC CERTIFICATE. It's a full-time job. Salary is based on experience.
Contact 514-561-8756, call or send text message. Or bring your resume to:
Voyage Sky Express
671 Jean Talon West
Montreal, QC H3N 1S1
Workers needed for assembly, installation and general work for aluminium or steel ramp – experience an asset but not required. Apply at 8910 Pascal-Gagnon, St. Leonard or contact ENZA at 514-327-2200 or via email at info@mondialuminum.com
श्रमिक चाहियें, एल्युमीनियम या स्टील रैंप के लिए – असेंबली, स्थापना और सामान्य काम के लिए। अनुभव लाभ हेतु है मगर आवश्यक नहीं है। इस पते पर आवेदन करें – 8910 पास्कल-गगनों, सेंट लियोनार्ड या 514-327-2200 पर एन्ज़ा से संपर्क करें या ईमेल भी भेज सकते हैं info@mondialuminum.com
Click here to see Job & Training – Become a Pool Lifeguard for FREE