Diwali Festival of Lights event sparkles with dance, music and memorable performances by Jassi Sidhu and Mickey Singh!
The crowds got what they came for and more! The Diwali Festival of Lights presented by RBC in partnership with TELUS was a huge hit this past weekend on Oct 21 and 22nd. The Bramalea City Centre was buzzing with activity as festivities began at 11 am with some stellar performances by groups like Satrangi Peengh, Nupura Dance School and Sanskriti Arts among others.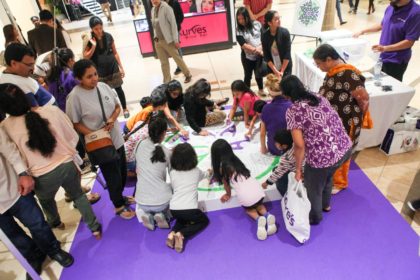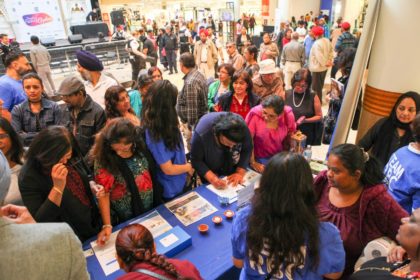 Kids flocked to the rangoli station organized by TELUS. Rice grains dyed in colourful hues of green and lilac were used by kids to make a pretty pattern. The little ones also enjoyed face painting, clowns and a jaw dropping magic show by Rayn the Magician. The fun was non-stop as the energetic and talented dancers from the Shiamak Davar Toronto group took to the stage and after some scintillating performances, had the audience participate in an interactive dance workshop which was enjoyed across all age groups.
[sam_ad id="35″ codes="true"]
"Diwali is all about spending time with loved ones. So, we wanted to create an event where every member of the family, from the youngest to the oldest, comes out to spend the day with their family and friends; and celebrate Diwali like many do, back home. The festival is for people from all walks of life and cultures to enjoy" said Sanjay Agnihotri, Director, Business Development, Metroland Specialty Markets.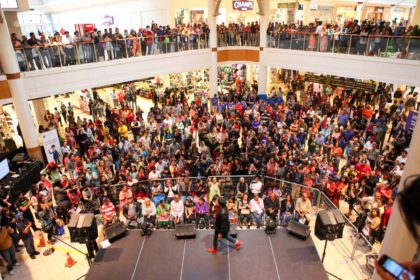 Miss India Canada, Tanpreet Parmar brought the glamour as she hosted the event on Saturday while Mississauga icon, Jake Dheer took over the proceedings on Sunday.
The highlights were two livewire performances – on Saturday evening by bhangra legend, Jassi Sidhu who flew down from the UK to treat his fans to his all time hits like Ama ni Ama and Veerji among others, while heartthrob and urban-desi star, Mickey Singh rocked the crowd with his hits on Sunday night.
"We are delighted to present the 2017 Diwali Festival of Lights, one of the largest events in the city's calendar," said Zanita DiSalle, Regional Vice President, RBC. "This is a very special time of year where we can come together as a community and celebrate the Festival of Lights and the cultural significance it has for many of our residents, young and old." Free diyas were distributed at the RBC booth and attendees were part of a lucky draw wherein they could win up to a $1000! Various vendors that included South Asian fashion boutiques, henna, and intricate jewelry were on hand at the event displaying their latest collections and work. Free copies of the Suhaag magazine were being given out and as a special Diwali treat, attendees could check out an exclusive Diwali stamp that was released by Canada Post earlier this year.
[sam_ad id="20″ codes="true"]
This year's Diwali Festival of Lights is also supported by Associate Partner: TELUS, along with event sponsors: Taj Mahal Tea, Dove, Bigen, Volvo of Mississauga, Bramalea City Centre, Suhaag, PTC Punjabi, Weekly Voice and Brampton Guardian.
As one of the biggest and most popular festivals in the South Asian community, Diwali celebrates the triumph of good over evil and the perfect time to indulge in fun and festivities with the entire family.
To post your comments: @DiwaliFOL or for more information visit:  www.DiwaliFestivalofLights.com
[sam_ad id="24″ codes="true"]