An Interview with Dixit Patel, A comedian in the Multicultural Comedy
~ Haboubs & Laloos in Montreal ~
Dixit Patel is a young stand-up comedian who is a part of Haboubs & Laloos' comedy team. A young Lavalian does an excellent Indian accent but he doesn't have one. He is already performing in a second comedy show in Montreal.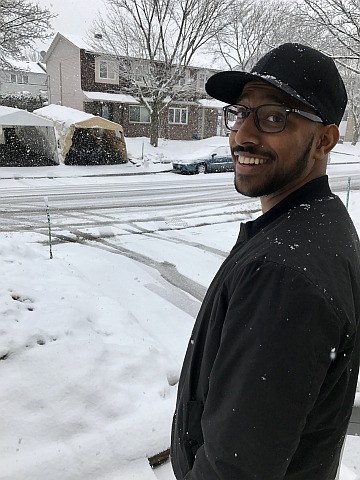 Just look at that beaming charming face, he already makes me smile.
Dixit started out by making funny videos and putting them online, apparently with a huge following. This is his attempt to plunge into a kind of comedy proprietorship with his partner, Emile Khoury. So, Dixit has an entire team of comedians to put a smile on everyone's face.
Click on the play button on the audio player below to listen to full interview.
"Haboub is a sort of Arabic style laloo, a guy in a Haridas suit wearing sun glasses," explained Dixit. A laloo is a Hindi word for innocent or silly and so is haboub but in Arabic.
[sam_ad id="24″ codes="true"]
"I have a charm when I talk to people and I have a nice way to interact with a crowd," said Dixit when I asked him if he had any difficulties growing up in Quebecois culture with English speaking immigrant parents from India.
He paved his way into comedy from theater. He enjoys making people laugh. Dixit Patel will be performing at the comedy show.
at
Vanier College
on
April 1, 2017 – 7:30pm
Ticket – $20.00
Info: 514-264-9301
[sam_ad id="25″ codes="true"]