Until the Lions – An Astounding Thrilling Performance
Akram Khan has done it again this time with the 'Until the Lions'. Inspired by Karthika Nair's book, the end of civilization is represented in this shear thrilling performance based on the fusion of western and the Indian classical dance, Kathak.
One hour long musical performance is simply astounding where Akram has tried to strike the balance between the male and female heros. In the past, the women, though central to the narrative, have been far less in the forefront of story-telling than men. To give more central role to the women heros, Until the Lions addresses a collection of poems about the female characters in the epic of Mahabharata.
[sam_ad id="21″ codes="true"]
A little less clear on the stage, the main character of the story is the warrior, Bheesham who first abducts Amba and then deserts her. Bheesham is played by Akram Khan. Vowing vengeance, Amba is reincarnated as Shikhandi, who is genderless, a hermatophrodite.
In the great Kurukshetra war, that wrought the battle between 'dharm' (righteousness) and 'adharm' (unrighteousness), Shikhandi takes her revenge. Bheesham had vowed never to attack a woman and as a man of his vows, he rendered himself weaponless when Shikhandi suddenly appeared in front of him. Thus, Bheesham was killed by Arjun's arrow.
A fusion of Kathak dance did justice to the fantastic display of jealousy, vengeance and the war-like movements. It wasn't so much a display of war movements but an overall expression of love, desertion, fury and at last, surrender to his fate.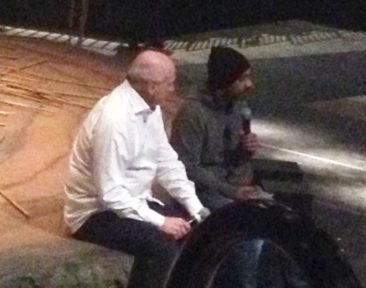 When asked, Akram Khan mentioned that he chose Kathak as an obvious choice for the performance. Needless to say, the audience were spellbound till the end of the show. The music was a mix of chorus and kathak bols, simply amazing and very effective. Amba was played by Ching-Ying Chien whose performance was breathtaking. Christine Joy Ritter played the part of Shikhandi displaying amazingly both the characteristics of male and female.
Click the play button on the audio player below to hear some excerpts from Akram Khan's chat about the show.
Akram held true to the Indian dance performance in this show. The erotic and romantic scenes were performed with much ease and dignity.
The stage was unique. It was the stump of a huge tree that represented the planet earth. Near the end, it was almost the display of 'Pralai' (catastrophe) that brings about the end of a civilization, and hence, the aftermath from the war of righteousness against unrighteousness. The stage, or earth, near the end breaks into pieces with fire burning in its broken parts.  The stage set-up was very interesting. There Shikhandi holds Bheesham's skull on a stick. It was an eventual dramatic ending.
Hats off to Akram for an amazing show! 
[sam_ad id="33″ codes="true"]