Apple Recipes
Apple Browns
Ingredients (6 to 8 servings)
3 lbs. cooking apples
4 cups sliced and cubed bread (about 10 slices)
1/2 tsp. cinnamon
1/4 tsp. nutmeg
1/8 tsp. salt
3/4 c. brown sugar
1/2 c. butter, melted
Method
Wash apples, peel and core. Cut them into eighths and place them in bottom of a slow cooker. Mix bread cubes, cinnamon, nutmeg, salt, sugar, butter and toss together. Sprinkle the bread cubes mixture on top of apples in the slow cooker and cover. Cook on low for about 2 to 4 hours.
Apple Butter
Ingredients (8-10 pints)
13 lbs apples or 4 qts. applesauce unsweetened
7 cups granulated sugar
1-1/3 cups brown sugar
5-1/3 tbsp cider vinegar
5-1/3 tbsp lemon juice
2 teaspoon cinnamon
2 teaspoon allspice
1 teaspoon ground cloves
Method
Mix all the ingredients in a slow cooker. Cover and cook on high from 2 to 3 hours, stirring occasionally. Remove lid and continue cooking, if necessary, until the excess liquid cooks away. Don't let it burn. Turn to low if necessary. Now turn the slow cooker on low setting for 5 to 8 hours until thick and buttery. Once you turn the cooker off, can the mixture within 3 to 5 hours
This can be made in a Crock Pot or in oven at 325 degrees for about 3 to 4 hours.
Baked Apples
Ingredients
6 large cooking apples
3/4 cups of orange juice
2 tsp grated orange rind
1 tsp grated lemon rind
3/4 cups of rose wine or apple cider
1/4 tsp. cinnamon
1/2 cups brown sugar
Method
Decore apples and place them in the slow cooker. Mix all other ingredients and pour over the apples. Cover the pot and cook on low for about 3 1/2 hours or until the apples are tender. Cool and may serve with ice cream.
Apple Smoothie
Ingredients (Serves 2)
2 cups of Apple sauce or 3 cups of apples
1 cup Apple cider
1 cup Orange juice
2 tbsp maple syrup
1/2 tsp Nutmeg
1/2 tsp Cinnamon
Put all ingredients in a blender and blend until smooth.
Apple Coconut Ginger Smoothie
Ingredients
1/4 cup Apple juice or one fresh apple
1 tsp grated coconut or 1 tbsp coconut milk
1/2 banana
1/4 tsp fresh Ginger root, peeled grated
1/2 cup crushed ice or 2 ice cubes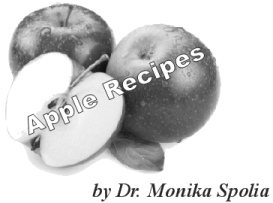 Put all ingredients in a blender and blend until smooth.
Dr. Monika Spolia