There are several challenges players in the construction industry are faced with. For instance, many of them have been hit hard as a result of the COVID-19 pandemic and are trying so hard to stay afloat.
But aside from this, other causes for concern include the shortage of labor, insufficient funding, and difficulty sourcing for raw materials. For more on the challenges facing this industry, you can visit: https://www.forconstructionpros.com/asphalt/article/21069827/five-legislative-challenges-asphalt-contractors-face-in-2019
As many can tell, paving companies fall under this category and we are going to discuss them in this article. Especially given the hard times many of these companies are facing and how it affects their effective service delivery, how can you figure out the best company for your paving project in Maryland?
For answers to this, you should read on as we will discuss some tips on how to go about your search for the right company.
What Do Paving Companies Do?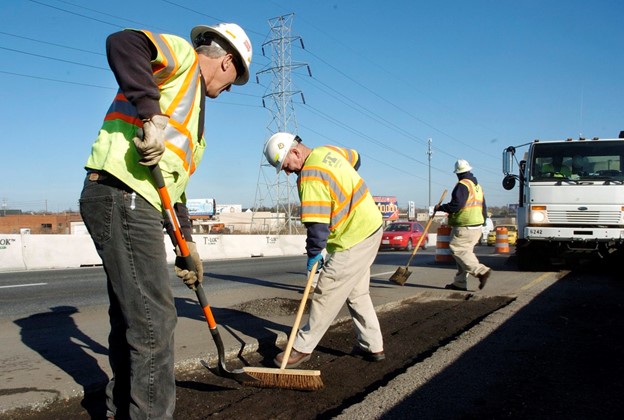 Paving companies are professional services in the construction industry that help construct, maintain, and repair various kinds of pavements.
The pavement in question can be what you have on your residential or commercial driveway, the pedestrian side of the highway, and many other projects.
To carry out their projects, these companies are expected to properly examine the job at hand before bringing in their heavy-duty vehicles and operational team to work. This site evaluation will help them figure out the best way to prepare the area for the paving job.
Furthermore, adhering to the codes of the location is very important when you are carrying out this kind of project. This is so that you do not get on the wrong side of the law. So, having a pavement constructed in Maryland must be in line with the regulations binding on the location.
For this reason, you should be particular about dealing with a company that understands this and will abide by it. Some of the regulations revolve around things like drainage construction and material used.
Tips on how to Choose the Right Paving Company in Maryland
To end up with the right paving Construction Company, below are some of the things you should look out for:
Location
You should deal with a company that has a local history in the area. By doing so, you will be certain that the construction service provider is locally licensed for operation and has handled a good number of jobs that can be used as a yardstick for rating their service.
So, you should stick with the local guys rather than look for a team located miles away. As an added incentive, doing this is a cost-effective approach. This is because the burden of transporting their heavy-duty machines and operational team will not be reflected in the charges you have to pay.
So, the nearer the better!
Dedication to Safety
Here in Maryland, we take the subject of safety very seriously.
Therefore, it is important that construction companies that are into paving commercial properties in Baltimore and all of Maryland live up to this expectation. They must consistently train their team to help them in this regard.
To ensure that you are dealing with a company dedicated to their worker's and client safety, you should check out reviews from previous clients. More importantly, ensure that you are obtaining it from the right source.
Speaking of obtaining reviews, let us move on to the next point.
A Construction Company with Impressive Reviews
With the internet, you have so much information at your beck and call. So, you can use this to your advantage when trying to find out how effective a construction paving company is.
Sites like Angie's list are credible platforms that allow previous clients to make remarks about the services of these companies. What you get on platforms like this is unlike what you get on the company's official site that is heavily censored for remarks that can hurt their sales.
The point is obtaining your information from a credible source. Another option for you is the BBB (Better Business Bureau).
We like to think this platform is more organized and regarded. In terms of organization, it goes the extra mile in analyzing the reports of previous clients and rating the company. On that note, we strongly advise that you do business with a company that has an A+ rating.
A Well Organized Company
Frankly, there are so many amazing paving companies in Maryland. However, you also need a well organized service provider. What do we mean?
Among other things, the company should carry out its construction business without affecting yours so much.
This way, you will be able to carry on with your operations rather than having to shut down operations because of the construction project. This is so that your return on investment is not affected.
Prompt Delivery
The last point addressed how your business operations should not suffer simply because you are carrying out a paving project.
But truth be told, there will be a little bit of distraction here and there. For instance, you may have to deal with noise from heavy-duty machines.
Therefore, you can only endure this for a while and need a company that can help in this regard. The project has to be completed as soon as possible. On the other hand, it should not be a wishy washy job that cannot stand the test of time.
For more on the subject of choosing the right paving company, you can read this article.
Conclusion
Have you ever admired a driveway?
That fascination was because of the decision to hire a good paving company. To ensure that you are also making the right decision, we have shared some helpful tips you should adhere to.