bharat pandey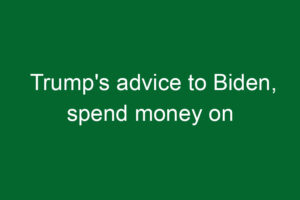 Trump's advice to Biden, spend money on protecting children
Bharat Pandey
Former US President Donald Trump has advised President Joe Biden to spend money on the safety of school children, amid rising voices against gun culture in the country.
Trump told the National Rifle Association's (NRA) annual convention in Houston, Tessas province, that when the United States can give Ukraine a $40 billion aid package, it should do everything possible to keep the children safe.
He described the shooting at an elementary school in Uvalde, Texas, on a group of students as "wild and barbaric atrocities" and said the incident shook the conscience of every American. It is noteworthy that 19 children and two teachers were killed in this firing incident.
Former President Donald Trump appeared to stand in favor of the gun rights lobbying group at this conference. He attacked the Democratic Party for not supporting measures to increase security in schools. Trump has rejected calls to cancel the NRA's annual convention amid growing demands for stronger gun control measures in the country following the killing of school children.
Trump is quoted as saying that every time a disturbed or insane person commits such a heinous crime, some people in our society have always found a strange way to use the suffering of others to advance their extreme political agenda. Let's try. Referring to those advocating gun law reform, he said: "Even more repulsive is to shift the blame to the villains of mass violence and to put that blame on the shoulders of millions of peaceful, law-abiding citizens who Belongs to our wonderful organizations like the NRA.
The former president called for increasing school safety rather than focusing on gun reform. He said that if the United States has 40 billion USD to send to Ukraine, we will have to do whatever it takes to keep our children safe at home.