Unity Day Parade
Celebrating India's 72nd Independence Day
in Montreal
organized by ICO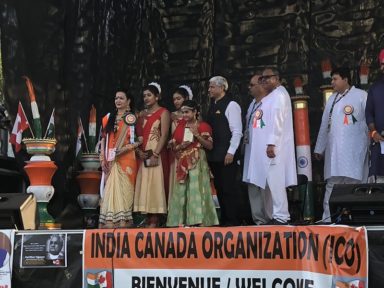 Montreal, August 19, 2018 – India's 72nd Independence Day was celebrated with much fervor in Parc-Extension area of Montreal. Parade all the way on Querbes from Ogilvy to Liege ended at Howard Park where a lot of cultural festivities took place. The event was organized by ICO, India Canada Organization of Montreal.
[sam_ad id="20″ codes="true"]
Special guests of the evening amongst many were His Excellency the High Commissioner of India in Ottawa Mr. Vikas Swarup; Mr. Frank Baylis, Liberal Caucus, MP for the riding of Pierrefonds—Dollard; Mr. Francis Scarpaleggia, Liberal Caucus, MP for the riding of Lac-Saint-Louis, Quebec; Mr. Alan DeSousa, the Mayor of Saint–Laurent and City Councillor for Ville de Montréal; Mme. Mary Deros, Member of the Montreal Executive Committee responsible for cultural communities and City Councillor for Parc-Extension; Representative for Mr. Jagmeet Singh of NDP.
[sam_ad id="20″ codes="true"]
The cultural program was opened by Arjita with a Rajsthani folk song. This followed by a colourful performances of Bollywood dances and singing. A lot of food and other stalls were there. Kid's amusement was also taken care of. A great celebration.
[sam_ad id="21″ codes="true"]
[sam_ad id="20″ codes="true"]
[sam_ad id="20″ codes="true"]