Women's Day Celebrated by Naach Bollywood
Hosted by Ambica Sharma, Bollywood Dance Instructor
March 24, 2018, Montreal – Montreal's Bollywood lovers enjoyed celebrating women with some Bollywood masala. Ambica Sharma, the dance instructor of Naach Bollywood, organized an amazing program of dances, singing and poetry.
Ambica Sharma welcomed the guests. A chart was placed by the entrance where everyone could write down their own thoughts / idea /perspective on women. Quite interesting. Arti Khanna recited a poem about Being Blessed.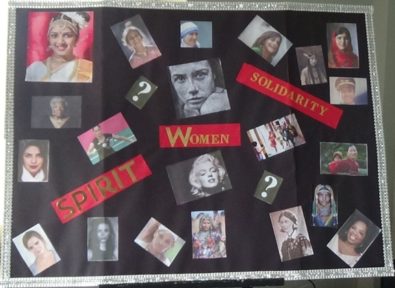 "I am very thankful to all the women who have crossed my path; some have greatly changed me for the better and the others have made me even stronger," said Monika Spolia, the MC of the event.
[sam_ad id="20″ codes="true"]
Geeta Sunil Soni sang in her beautiful and melodious voice, 'sada chiriyan da chamba vey' with detailed narrative in Hindi. This is a tranditional Punjabi folk song about the pain, when one's daughter leaves her house after the marriage. Geeta is a winner of various singing competitions through out school and college years including Asiad 1982 for harayanvi ghoomar dance and group song and ATHA Swagatham Shubha Swagatham. Later, she sang 'aaj jane ki zid na karo' in her thrilling voice. Renuka & Group performed bollywood dance on a Punjabi tune. It was beautifully done. Shireena said a few words on women.
Prerna sang 'ek choti si aasha' in her melodious voice. She is a trained artist who specialises in bollywood singing, dancing and henna. Farzana Imam Haque recited a poem penned by her father, Mazhar Imam, who was an eminent Urdu poet and critic from India. He received various awards in including the prestigious Sahitya Academy Award and Ghalib Award for his book Pichhle Mausam ka Phool. He is credited with enriching Urdu poetry by innovating a new genre which was named Azad Ghazal.
[sam_ad id="20″ codes="true"]
Back to Bollywood! Ambica Sharma and Ipsita Routroy performed a well admired folk dance, Ghoomar. Aparna recited poetry about Mother Earth. Aparna jha hails from 'Madhubani' which is Mata Sita's birth place and of world famous Paintings.  She maintains, she enjoys the best in life not because only good things come her way, but because she finds good in everything that comes in her way.
Shweta read a very nice poem. Sweta sang a a song in her sweet melodious voice. Ipsita performed another Punjabi dance. The crowd enjoyed the event. Plenty of refreshments were there.
[sam_ad id="24″ codes="true"]