Anita Majumdar talks to Bharat Times about her play
'Boys With Cars'
In Montreal from Nov. 24th – Dec 2nd
Anita Majumdar is a Canadian playwright, actress and a dancer. Anita also holds a Best Actress award as well as two Dora Mavor Moore Awards. Equipped with multi-talents, she is on tour with 'Boys With Cars', the play written and choreographed by her as well as it is performed by her.
It is an excellent play with a lot of Indian dance and laughter that, actually, tries to shake the barrier of in-action in Canadian high school bullying and victimization as well as create an understanding by breaking the silence. Let's read what Anita has to tell us about her show.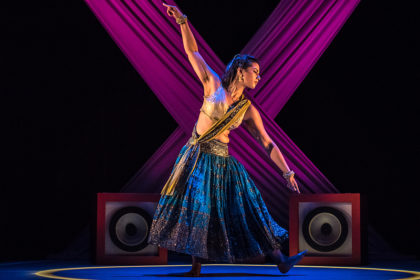 Monika – Hello, Anita. Tell us a little bit more about this play, 'Boys with Cars'. It is set in this Canadian High School culture. So, what is it about?
Anita Majumdar – It is actually a double bill of two stories. In the first story we meet Naz, who goes to high school in Port Moody, British Columbia that is also my hometown. She falls in love with a new student at her high school named Lucky Punjabi. One day, he happens to be away from school and there is school assembly. A sexual incident occurs during the school assembly with Lucky's best friend.
Also read: BOYS WITH CARS – Award­-winning Contemporary Canadian Masterpiece
The story just unravels from there in terms of what happens to Naz. How the school reacts to the incident? Where the blame is placed in terms of who believes the boy's side and who believes the girl's side? Essentially, how the ramification falls on Naz in terms of what it is to be a young woman, not just in high school but the world that we currently live in, in terms of how we see women?
On top of all that, she is a classically trained kathak dancer. So, there is a lot of Indian dance stemming from my own training in kathak. That's the first side of the story.
[sam_ad id="20″ codes="true"]
The second story is from the perspective of the young man who exact this incidence on Naz, whose name is Buddy and his girlfriend's name is Candice. So, we actually get to see and hear the story through Candice's perspective of what she thinks of Naz. This is all done through the conceit of a you-tube makeup tutorial. Candice has her own you-tube makeup channel. She is, in fact, a white girl whereas Naz is a South-Asian Canadian.
Here we actually watch me transform into a white person through the aid of make-up. Through the video we see her process the story that's been told to her about what happened with Naz; how she starts to maneuver her position on believing her own boyfriend or not.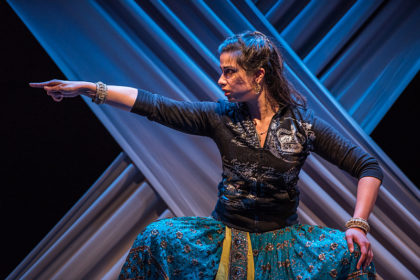 Monika – Very interesting. This is a very involved play. What you are talking about is actually what takes place in real life. I am from British Columbia myself. I went to high school there too. Interesting.
Is this your first play, Anita?
[sam_ad id="10″ codes="true"]
Anita Majumdar – No, my first play was Fish Eyes. 'Boys with Cars' is actually part of the 'Fish Eyes' trilogy. All three plays were recently performed here in Toronto. Now, as we embark on tour, we are sort of breaking up the story. We head to Saskatoon where we do 'Fish Eyes' and Candice's play and her story. In Montreal, we are doing Naz's story and Candice's story under the title, 'Boys with Cars'.
Monika – Did you feel these pressures yourself or perhaps on your close ones? How did you get prompted to write such as play?
Anita Majumdar – For me, the prompt for all three of the plays including 'Fish Eyes', which Montreal will not get to see this time, is – I felt a lot of guilt when I was in high school. I did my best to absolve myself from that as an adult. But as a young person I would watch these things happen and unfold and I knew that they were wrong. I knew that women shouldn't be treated that way that there shouldn't be a double standard. I would watch my friends get bullied. I would watch my friends be bullied because of the color of their skin or just their gender.
I felt quite powerless to not be able to do anything about it because I also had to protect myself. I was also one of five South-Asian people at my high school. I knew that I was under scrutiny and that I would have to protect myself. So, I didn't step up, and I didn't step in. I felt guilty about that even long after I left high school.
I am a former graduate of National Theater School of Canada in Montreal. When we were studying, we were given a prompt to write a solo show. That's how 'Fish Eyes' came to be. I sort of wanted to turn back on to high school landscape and address a lot of the things I had buried and a lot of the things I felt that needed to be talked about. I had no idea that other people were equally interested in not only talking about it but also hearing about it.
[sam_ad id="21″ codes="true"]
Monika – Would you say that this play, which is about the struggle, the status and the sexual pressures, is targeted only at teens, or is it for all ages?
Anita Majumdar – I would say for all ages. Recently, we started performing for high schools and the teens responded extremely positively. But the intent has always been for the adult audiences.
The difference between those two audiences is that the young audience is going through it in the present moment. So they would have the benefit of the reflection and being able to step away like you and I would have and reflect on that time and say, 'Oh my god! That's what it was.'
And we'd have the benefit of talking to other people. We would break a silence. Currently, we are in a time when many women are breaking silences. When you break a silence and commiserate with other people, you are also able to acknowledge your place within a community that we are in this together, that no change can actually come about unless we work together.
The adult audiences have the benefit of reflection, and growing up and moving up in your twenties where you can reflect on what it was to be a teenager. Those are all the privileges as adults and we can watch the show with that information.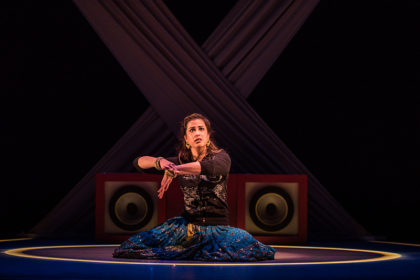 As for young teen audiences, it is like planting a seed. My hope is that they carry the information, learn and hear and even if it doesn't make any sense at present moment, they carry it forward. God forbid! they have to come across an incident like this or anything similar, they will be able to remember the experience of the show, how they felt when they watched it happen to somebody else, like Naz or Candice. That feeling will retain as they move forward in their lives.
Monika – I have spoken to some South-Asian parents and they feel that their children are confused. They don't know what to do. The parents don't have much of an understanding either.
[sam_ad id="21″ codes="true"]
Anita Majumdar – And it's also an uncomfortable conversation to have, right?
Monika – Yes.
Anita Majumdar – Not just South-Asian parents. I think it's quite uncomfortable to talk to our kids about sex. Who wants to tell their parents about the feelings they are having. As old as I am, I don't want to talk to my parents about that. So, a show like this in theater, in general, allows a pivot point where we are able to allow for some distance. We are not talking about ourselves necessarily. We don't have to publicly declare who do we have a crush on or who did what to us. But it allows for a safe way to get the information out, and do it in an entertaining way that these are stories that happen to real people.
Monika – So, is there a message in there how to deal with it or how to stand up to pressures?
Anita Majumdar – Certainly. And I would say that the way Naz does it is quite artistic because it is theater. This play isn't heavy on a prescriptive message. Again that is because it was built for adult audiences.
It does bring up lots of questions and raise some points of debate among teen audiences and adult audiences whether Naz is to blame or not; Was she instrumental in what happened to her through her inaction?
That's equally important to me. It is the success on part of the production that people want to have that conversation and want to very vehemently debate, whose fault that was and why we feel this way.
So, we start unraveling the way we think. I think good theater always comes back to the world we live in and how does it, in fact, change.
[sam_ad id="20″ codes="true"]
Monika – Wow! I would recommend this play for all ages.
Anita Majumdar – It is also funny. We have just been talking about the dark side of the show It is also filled with lightness. There is a lot of dance in it. It has its light moments. We can't know darkness without the light. What counter balances between the dark and the light is what makes the show popular as it is. It also makes it durable. Nobody wants to see a lot of 'rona-dhona'. It is so hard to manage our own grief. How do we manage someone else's!
My approach to theater is that there should always be lightness because along sadness when we laugh in tears, that is real human experience.
Monika – We carry the message well with us when it is said in a light and comic manner.
Anita Majumdar – Absolutely.
Monika – This is wonderful. And you are the winner of two Dora Mavor Moore Awards?
Anita Majumdar – Yes.
Monika – Great. I certainly look forward to seeing the show – Boys With Cars – running from November 24th to Dec. 2nd. See you at the show, Anita and thank you.
Monika Spolia
Editor, Bharat Times