Until the Lions by Akram Khan
A co-production of Danse Danse, TOHU and Theatres 360˚
March 17. 18. 23. 24. 25, 8 P.M. / March 19, 2 P.M.
Only at the TOHU in North America !
A retelling of the Mahabharata, presented in the only circular performance venue in North America.
A unique chance to see Akram Khan, magnetic dancer, in this love and revenge story.
3 exceptional dancers, 4 live musicians on stage.
A 360° experience
Montreal, February 20th, 2017 – An exciting premiere! TOHU and Danse Danse have partnered to co-present Until the Lions, an outstanding work by choreographer and dancer Akram Khan, in an exclusive engagement at North America's only circular performance venue. Akram Khan has a loyal and enthusiastic fan base in Montreal: his amazing In-I, co-created with actress Juliette Binoche, was presented by Danse Danse in 2009. In this new work, he performs alongside two remarkable female dancers and accompanied by four live musicians, on the TOHU stage, transformed for the occasion into a giant cross-section of a tree trunk. Until the Lions is a retelling of the Mahabharata, the epic Sanskrit poem, through the eyes of its minor characters, particularly women, based on Indian writer Karthika Naïr's original reworking in verse. Visual design is by visual artist. Tim Yip, whose credits include art direction of the film Crouching Tiger, Hidden Dragon, for which he won an Academy Award in 2001. Acclaimed for his unique, signature blend of Indian kathak and contemporary dance, Akram Khan demonstrates masterful grace and fluidity, brilliance and interiority, focus and magnetism.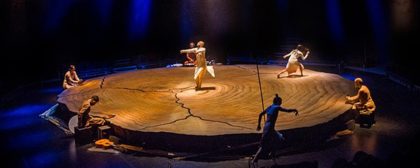 Until the lions have their own historians …
Until the lions have their own historians, the story of the hunt will always glorify the hunter … Taking an opposing view of this proverb, poet Karthika Naïr gives a voice to the minor characters of the Mahabharata, the ancient Indian epic poem. In her book Until the Lions: Echoes of the Mahabharata, she tells the story of Princess Amba, abducted on her wedding day by the warrior Bheeshma, half-man and half-god, who was supposed to marry her but takes a vow of chastity and relinquishes her to another. Inspired by the tale, Akram Khan, who likes to tell stories through dance, asked Naïr to write the script for his new work, in which he portrays Bheeshma in a furious kathak intended to exorcise the hero's frustrated desire. Joining him on the circular stage are female dancers Christine Joy Ritter and Ching‑Ying Chien, portraying two incarnations of the princess, implacably bent on revenge. A magical show that bears the stamp of Akram Khan's mystical charisma, Until the Lions was named "Production of the Year" in 2016 by the prestigious German dance magazine Tanz.
"Dans Until the Lions, le conflit à corps ouvert qu'est sa gestuelle tradi-contemporaine épate une fois de plus." – Le Monde, Paris.
"La danse féline d'Akram Khan met la scène en furie." – Télérama, Paris
"Une réussite." – Les Échos, Paris
"A firecracker of a show" – The Telegraph, Londres
[sam_ad id="20″ codes="true"]
Akram Khan, dancer, choreographer and company director
Kathak means "storyteller" in Sanskrit. It was this classical dance form, in constant dialogue with musicians and singers, that Akram Khan first learned as a child growing up in London under the watchful eye of his mother, who hoped this training would implant his Bengali heritage. Akram Khan has been telling stories through dance since he was seven. He made his stage debut at 14 in Peter Brook's legendary Mahabharata, touring the world with the production from 1989 to 1997 and appearing in the televised version in 1988. After training in contemporary dance, he danced for Anne Teresa De Keersmaeker. In the late 1990s he performed his first solo works, blending kathak and contemporary forms. In 2000, he partnered with producer Farooq Chaudhry to establish his own company, Akram Khan Company, a nexus of innovation that presents a wide range of works created in collaboration with internationally renowned artists in various disciplines, and interweaving traditional and new forms in skillful and subtle ways.
Akram Khan in 10 dates
1974: Akram Khan is born in London to parents of Bangladeshi ancestry.
1987: Makes his stage debut at 14 in Peter Brook's Mahabharata.
2006: Danse Danse presents ma.
2007: Receives the International Theatre Institute's Excellence in International Dance Award.
2009: Danse Danse presents In-I, a duet with Juliette Binoche.
2012: Danse Danse presents Vertical Road.
2012: Creates a section of the London Olympic Games Opening Ceremony.
2014: Danse Danse presents iTMOI.
2016: Until the Lions is named "Production of the Year" by the prestigious dance magazine Tanz.
2017: Danse Danse and TOHU copresent the exclusive North American engagement of Until the Lions, performed on TOHU's circular stage.

"In TOHU, Montreal has an exceptional performance venue where the audience literally surrounds the artists, a specific requirement for Until the Lions by Akram Khan, one of the great choreographers of our time. Our thanks to TOHU for partnering with us to co-present this major work by an artist who has been warmly and enthusiastically received by Montreal audiences over the years."
Pierre Des Marais, Artistic and Executive Director, Danse Danse
Caroline Ohrt, Director, Development and Programming, Danse Danse
"TOHU is proud to partner with Danse Danse to co-present Akram Khan Company's Until the Lions. An initiative of Réseau 360°, this performance is designed for the circular stages of this international network, of which TOHU is the only North American member. A presenter's role is surely to bring artists and audience closer. The presentation in Montreal of this outstanding creation by a great international artist is a fine example of what can result from the alliance of two producers."
Stéphane Lavoie, General and Programming Director, TOHU
[sam_ad id="21″ codes="true"]
CREDITS:
Director/Choreographer/Performer Akram Khan. Narrative Concept/Scenario/Text Karthika Naïr. Visual Design Tim Yip. Lighting Design Michael Hulls. Original Music Score composed by Vincenzo Lamagna in collaboration with Sohini Alam, David Azurza, Yaron Engler, Akram Khan, Christine Joy Ritter.
Dramaturg Ruth Little. Assistant Director Sasha Milavic Davies. Assistant Choreographer Jose Agudo.
Voice-over Kathryn Hunter. Dancers Akram Khan, Ching-Ying Chien, Christine Joy Ritter. Musicians Sohini Alam, David Azurza, Yaron Engler, Joseph Ashwin. Producer Farooq Chaudhry. Technical Director Richard Fagan. Assistant Set Design & Technical Producer Sander Loonen. Technical Coordinator Peter Swikker. Stage Manager Marek Pomocki. Lighting Engineer Stéphane Déjours. Sound Engineer Julien Deloison. Assistant to the Costume Designer & Costume Maker Peggy Housset. Model head designed and made by Blind Summit. Project Manager and Tour Manager Mashitah Omar. This production is a partial adaptation of Until the Lions: Echoes from the Mahabharata, a retelling in verse of the Mahabharata by Karthika Naïr (HarperCollins India, 2015 & Arc Publications UK, 2016). Production initiated by the 360° Network of round artistic venues across the world. Produced during residency at Sadler's Wells London and Curve Leicester. Co-produced by Roundhouse/Sadler's Wells London, MC2: Grenoble, La Comète Châlons-en-Champagne, Théâtre de la Ville/La Villette Paris, Danse Danse/TOHU Montréal, Les Théâtres de la Ville de Luxembourg, New Vision Arts Festival Hong Kong, Taipei Performing Arts Center, Movimentos Festwochen der Autostadt in Wolfsburg, Brighton Festival 2016, Maison de la Culture d'Amiens, Concertgebouw Brugge, Le Manège de Reims Scène nationale, Holland Festival Amsterdam, Romaeuropa Festival, Curve Leicester. Sponsored by COLAS. Created with generous support from The Quercus Trust. Supported by Arts Council England. Akram Khan is an Associate Artist of Sadler's Wells London and Curve Leicester. Special thanks to Marcus Davey, Alistair Spalding, Nikolai Foster and Curve team, Philippe Bachman, Hervé Le Bouc, Sophie Sadeler, Béatrice Abeille-Robin, Lady Angela Bernstein, Mr. & Mrs. Khan, Yuko Khan, Saju Hari, Mavin Khoo, Ushma William, Siddhartha Bose, Jayne Stevens, Louisa Robey, Bethany Storie, Pei-Shan Su, Verona Rhamanan, Natalie Roberts. Akram Khan gratefully acknowledges Akram Khan Company staff team: Lindsey Dear, Jan Hart, Richard Fagan, Mashitah Omar, Céline Gaubert, Gabriel Szalontai, Florian Stagliano, Clare Cody-Richardson.
Place des Arts Box Office : 514 842.2112 | 1 866 842.2112
TOHU Box Office : 514 376.8648 / 1 800 376.8648
Tickets start at $58
[sam_ad id="14″ codes="true"]