Routine inspections are required to keep your roof in good condition. Seasonal or annual inspections will prolong the life of your roofing materials, avoiding leaks that cause damage, expensive repairs, and the need for a full new replacement.
People are faced with all kinds of roofing problems. Still, those that maintain their roofs regularly have fewer issues than others. You need to follow certain maintenance tips to help you identify possible issues and prolong your roof's life.
Moreover, roofs are designed to withstand all forms of weather, but there will be some wear and tear as time goes by. You can't expect your own to remain in perfect condition after 20 or 25 years. You can actually save a lot of money if you maintain it or hire a professional roofing contractor to perform those inspections.
Minor issues, if not dealt with on time, can lead to bigger ones. Plus, you need to keep in mind that if your roof is in good condition, no storm can cause a lot of damage to it. Click on the link https://ottawa.ctvnews.ca/tips-to-prevent-leaks-and-ice-damming-on-your-roof-this-winter-1.5306719.
So, make sure your roof is prepared for the next major storm by following these roof-safety tips.
Examine The Shingles
Check your shingles once a year, particularly after the winter months. But keep in mind that your roof is vulnerable to more than just wind and rain. The sun's rays emit ultraviolet radiation, which can cause damage over time. But be sure to check your shingles as part of your daily maintenance to make sure they're all in good shape and performing as they should.
It might sound like a tedious chore, but it is necessary if you want to preserve its quality for as long as you can.
Make sure your branches are trimmed
Have some trees that have overhanging branches cut until the winter arrives. Snow, ice, wind, and other natural events can break branches or fully remove them from a tree, creating damage to the roof and structures above it.
The last thing you need is to have broken branches on top of your roof due to heavy downpours or snow. It can be challenging to clean all of that up, especially if the weather outside is terrible and cold. Click here to learn more.
Gutters must be unclogged
Every homeowner is aware of the issues that clogged gutters can cause, especially for the roof. However, they can overflow with debris, bugs, and leaves that won't allow water to go through them as it should. This can result in an even bigger issue, especially if you don't unclog them.
Water can damage it as well as the support beams which keep it in its place. You might be faced with even higher costs due to water damage, but that's what happens if you don't maintain your roof. Before fall and spring arrive at your doorstep, make sure that all of your gutters are cleaned and unclogged.
Be aware of moss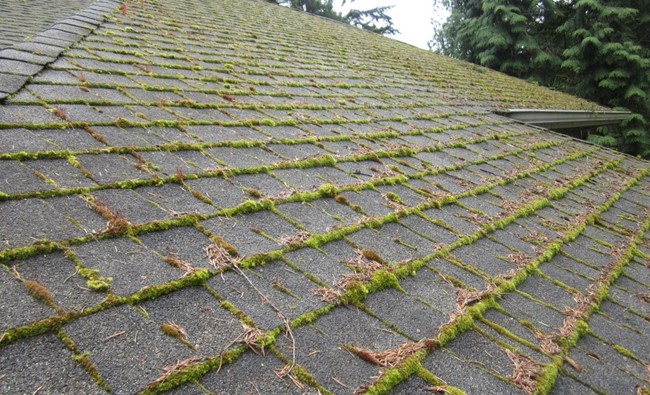 While moss adds color and a mystical forest appearance to the roof, the problem it causes is far from a fairy tale. Moss can damage all forms of roofs, including concrete, asphalt, and wood if left to develop unchecked.
Basically, moss develops in the gaps between your shingles. It would bulk up with time and actually raise the shingles allowing water to enter. Besides, the moss itself is a water source. Leaks, cracks, and wood rot are not that far behind. To avoid harm, you'll need to remove the moss yourself or hire someone to do it professionally if you don't want to face any of these problems.
Ventilate and insulate
Excess moisture, which can contribute to rotting, is less likely to be an issue on a roof that is well enclosed and ventilated. You should definitely get your attic tested to ensure you have the correct and adequate insulation. The value of ventilation cannot be overstated.
Most homeowners are typically unaware of this problem. Still, you should know that it is incredibly essential that you ventilate the attic. If you have leaks or cracks on top that let water in, you should seal them immediately. Otherwise, you are preparing the terrain for mold to start developing due to increased moisture levels.
Moreover, check to see if the vents are allowing enough air to circulate. Ice jams can also be avoided with adequately insulated roofs. In the summer, however, if you don't ventilate the roof it will make your home much warmer.
If your attic doesn't have enough controlled airflow, hot air doesn't have anywhere to go. Roofs that are well ventilated would also help you save cash on energy bills by reducing the amount of work your air conditioner needs to do in order to maintain room temperatures comfortable.
Prevent ice dams
After a particularly heavy snowfall, roofs are vulnerable to ice dams. The roof warms up as a result of the warm air in the attic, which then melts the snow. When those tricky rivulets of water enter the roof's colder areas, they refreeze and create ice dams.
Then, more meltwater becomes trapped and begins to seep into the roof, the more stains you'll notice on your ceiling. To stop ice jams, double-check your ventilation and insulation during winter to ensure that your attic remains cool enough to prevent them from developing. It's critical that you take care of this responsibility as we enter the cooler months of the year.
Conclusion
As you can see, there are a lot of tips that you can follow if you want to ensure your roof remains in good condition. If you can't handle the maintenance checks on your own, then you should try contacting professionals. Check out Southlake roofing company, as well as other options, to find out more.
The sooner you take care of smaller issues, the better the outcome. You save on money, and you get to use your roof for a long time because you won't need a replacement anytime soon.