Chakra (Part 2)
Chakras
After learning about Aura, Kundalini, and Naadi in the first six articles, the seventh article focused on chakras. It examined the names and locations of the seven major chakras, their roles, how they relate to medical science, and other topics. Now let's gain a better understanding of chakras.
Chakras of the Earth and Lay Lines
Every area, whether it be a house, any place, or the Earth, has chakras similar to the seven chakras in the human body. There exists a 'lay line' hypothesis, similar to latitude and longitude theory, based on the idea that energy accumulates in abundance in specific locations. As a result, those locations where lay lines converge abundantly and the energy is at its peak are referred to as the chakras of the Earth.
Listed here are the seven Earth Chakras.
Root Chakra: Mt. Shasta, California, North America
Sacral Chakra: Lake Titicaca, South America
Solar Chakra: Uluru, Australia
Heart Chakra: Glastonbury, Somerset, England
Throat Chakra: Great Pyramids of Giza, Egypt
Third Eye Chakra: Glastonbury, Somerset, England ***
Crown Chakra: Mt Kailas, Tibet
The location of the Third Eye Chakra goes on changing over a period of 2000 years or so. The current location is Glastonbury. While deliberating on different chakras individually, we shall discuss various chakras in detail.
Chakra Balancing
Chakras can be balanced, or cleansed in a variety of ways. The ultimate method to do this is through meditation. In addition, there are numerous methods for clearing and balancing the chakras, including colour therapy, food therapy, crystal therapy, yogaasana, mudra, sound therapy (classical raga, solfeggio frequency, binaural beats, subliminal massage, Tibetan singing bowls, etc.), affirmations, visualization, aromatherapy, emotional healing methods and many more. All these therapies are applied differently for different chakras. Many energy healing techniques like Reiki, Pranic healing, Tai Chi, Falun Da etc. can also prove effective in balancing various chakras and the energy body. The book 'ChakraSamhita' describes all these modalities with relevant YouTube links, wherever applicable. During this article series, we will cover all these aspects in detail while elaborating on the chakras one by one.
Palm Chakras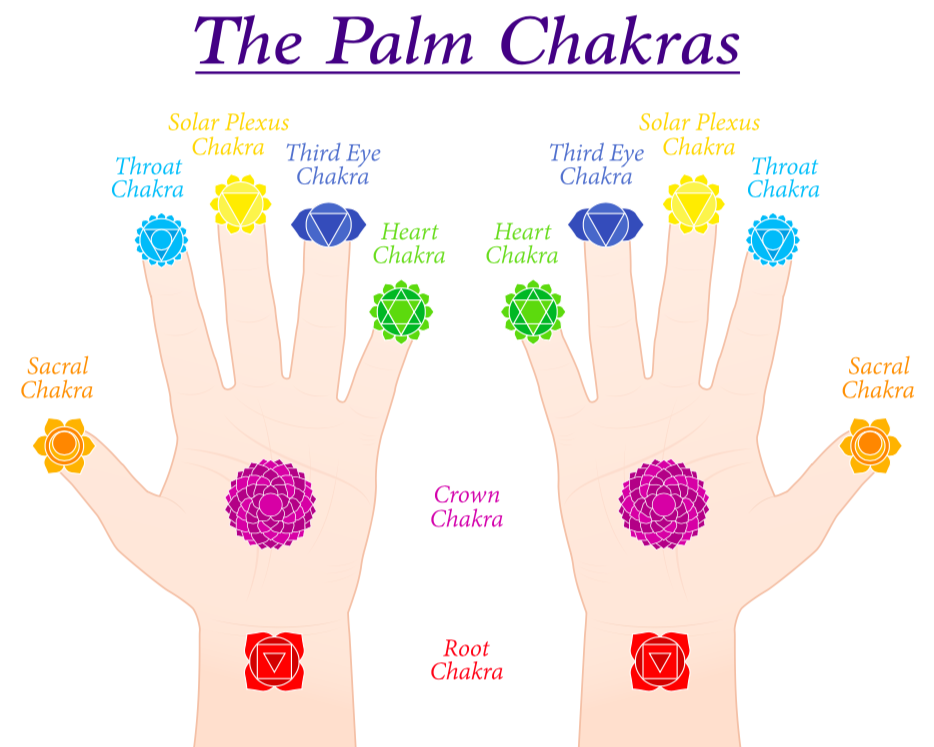 Both palms have seven chakras each, matching the seven main chakras found in various regions of the body (please see the picture). The palm is the primary organ used for touching objects or people. As a result, these chakras are quite susceptible to absorbing uncomfortable energy and causing disharmony. Corona has adequately illuminated the significance of palms in terms of infection to everyone's awareness. However, it is all the more important to understand  how the exposure palms to various can impact  the chakras. Chakras are eternal and will exist from the moment of birth till the moment of death, whereas Corona is a transient phase that may not persist after a few months or years.
The future articles will adequately address several approaches for chakra balancing. Meanwhile, let's have a look at some fundamental methods for keeping the palm chakras energized, clean and balanced.
1) Rubbing both the palms together would instantaneously increase the flow of energy.
2) Soaking the palms up to the wrist for a while in clean water, preferably salt water, would immediately cleanse the palm chakras.
3. Shaking hands as though to sprinkle water will rapidly increase energy levels when the body is feeling low.
4) From a hygienic perspective, individuals frequently hear the advice to wash their hands before consuming any food. However, everyone needs to understand this aspect from an energy and chakra perspective as well. Furthermore, one needs to keep in mind that every someone touches anything, it leaves an energy print, more so when a person touches any object often. A person having psychic powers termed as 'psychometry' can recognize the energy and emotions of a person having used any object, even after 100 years.  Therefore, unless indispensable, it is always best to avoid touching or using another person's belongings. A mobile device retains most of a user's energy in the contemporary environment. The time has come to have a halt, before embarking upon the thrilling journey of 7 chakras from the next article discussing Root Chakra, exploring all 7 chakras one by one, eventually reaching up to the Crown Chakra by the end of this article series. 
…continued in next issue
✍🏾 Jitendra Patwari ✍🏾
Jitendra Patwari's Facebook Page 1of2
Jitendra Patwari's Facebook page 2of2
jitpatwari@rediffmail.com
Cell: +91 7984581614
Find Jitendra Patwari on Facebook
Jitendra Patwari's You Tube channel