Manes' Tales & Thrillers: A book of captivating short stories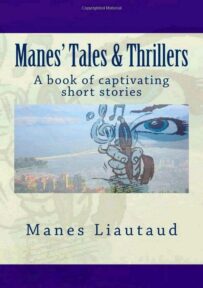 Paperback: 150 pages
Publisher: CreateSpace Independent Publishing Platform (October 26, 2012)
Language: English
ISBN-10: 148013547X
ISBN-13: 978-1480135475
Product Dimensions: 9 x 6 x 0.4 inches
Thirty-five short stories; six sequels; twenty-nine different themes, with barely any similarities apart perhaps from a recurring catchy fast paced style immersing you into a vivid world where action and events seem to happen and unravel right before your eyes, often before you know it. That's how you may feel when reading this book. From a man stranded into the desert, we then enter the mind of a scientist; next we go to a whodunit mystery, a car chase then pages that seem taken straight from a history book from the future. That's just for the first five stories and you have plenty more to follow and keep you hanging to every page and word until the last. The vivid imagination of the author takes us on a mental virtual roller-coaster of thrills and emotions. 'Life Saver and Destiny Girl' brings us to an intriguing moment in time shared by a man and a mysterious woman, and carries us along to a place we may not want to be but still acknowledge. If you wonder what that means, go along and read. 'Risky Tripping Foxtrot' is catchy with both elements of humour and action competing for the limelight. 'Triple Cross' and Decoy take us each in their own style into that mushy gangster world. Then 'Down West – Dead or Alive', as the title says, brings us into the Western genre with some typical themes of revenge, gunfights and redemption. 'Hell Heat' combines the unyielding determination of a tycoon with the sci-fi recurrent of space exploration. Then 'Criss-Cross Mountain', takes us into the horrid but captivating moments of a fight for survival. Published around the time of Halloween, 'Afternoon Run' is typical horror which reading may even make you breathless. 'Bumblebee Army' and 'Stress Trap' combine humour with a captivating style and a twist. Then comes Two-Timer, a catchy captivating story, and the last to have been published in the pages of the Bharat Times – as perhaps the author was intending to save the best for last.
Order your book today:
http://www.amazon.com/dp/148013547X – paperback
http://www.amazon.com/dp/B009X4G5NU – kindle version
About the Author
Manes Liautaud was first published in the Bharat Times newspaper, in Montreal, Canada, in July 2003. For the next four years he wrote for the column "Short Stories, Novel & Fiction" which was running a monthly contest at the time inviting readers to send in stories every month. At the same time, Manes went on to work as a journalist and photographer, covering events and taking interviews, publishing a number or articles over that same course of several years, until 2007. At that point he devoted more of his time to his work as an IT consultant, until returning to the literary world with his anthology of previously published short stories. Manes' background includes two degrees in the field of psychology and computer science respectively. One may guess that his interest or studies in psychology might be playing a role in the sometimes complex psychological settings of his stories. He has often alluded that both fields have in common the study and analysis of a brain, one biological and the other electronic. "While one science attempts to explain its functioning, the other tries to duplicate or emulate it by painstakingly reconstructing it piece by piece". Through Manes' writings, one may notice a certain innovative spirit. Interestingly, as a teenager being an inventor was one of his hobbies. He was actually awarded a patent for one of his inventions by the Canadian Intellectual Property Office. One may expect that he would therefore be more interested in the sci-fi genre. However, as shown by the wide variety of topics, subjects and settings of his stories, his interests are very much diversified.